'Magic tables' bring joy and laughter to care homes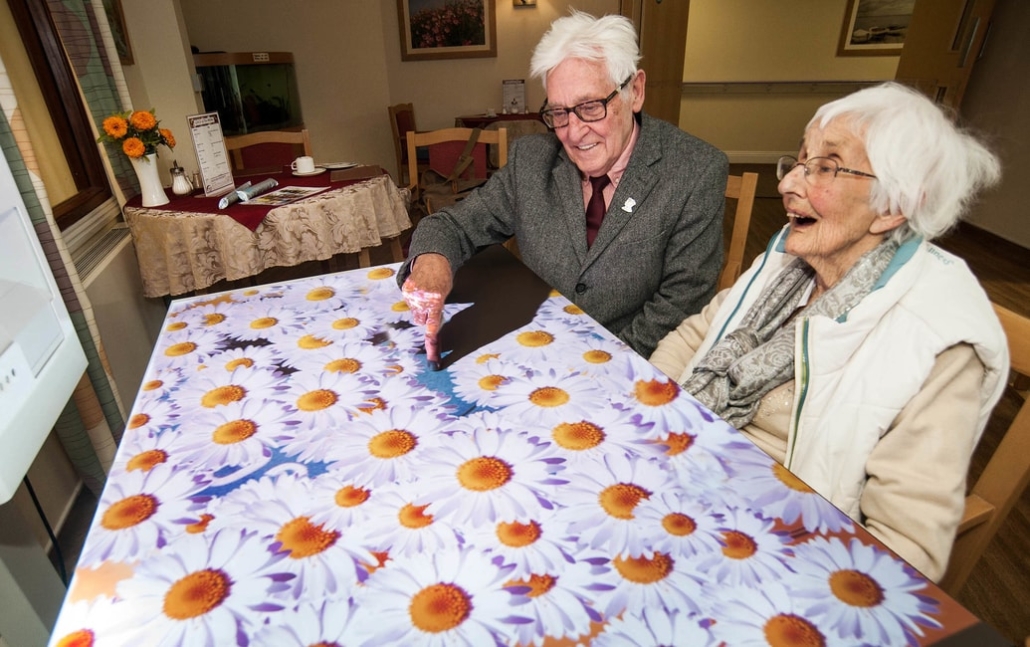 Squashing tomatoes, splashing in rock pools and popping bubbles are just some of the activities residents living in MHA care homes are starting to enjoy thanks to new technology which is helping spark conversations and stimulate activity.
Homes are investing in interactive, motion-activated sensory projection systems which support residents living with dementia – and the effect on residents, their families and staff has been amazing.  
With the goal of stimulating, engaging and relaxing the mind, the projection technology, which is manufactured in the UK and nicknamed 'magic tables', comes equipped with quizzes, music and themes that have been designed to prompt conversations, spark nostalgia and maintain memory. Its use of therapeutic scenes and sounds which derive from nature have been known to instantly promote feelings of calm for residents living with dementia.
Through this motion-activated technology, residents can reach out to crack an egg and make a cake, grow a flower simply by touching it, and even dip their toes in the water as the tide rolls in – all without leaving the sense of security that their own room provides. This is made possible by the equipment's portable and height-adjustable properties which are able to project coloured streams of light onto any table, bed or floor.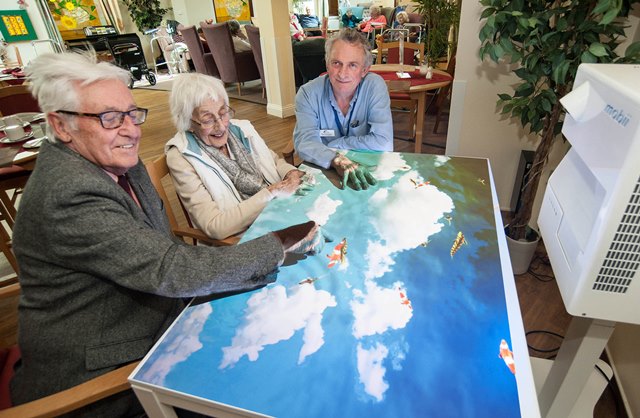 For some residents living with dementia, their ability to speak or socialise with others can become a struggle. But with this new activity that all generations can enjoy, including children and their grandparents alike, staff at MHA care homes have been able work with residents like never before.
Langholme care home in Falmouth is one of the first homes to have the equipment and one of the few care homes in the South West to offer this technology.
Maria Brown, Home Manager, said: "I first noticed the effect one of these projection games could have when a company came to demonstrate it at our Summer Fair last year, after seeing one of our dementia residents, who was visibly distressed at the number of people around her, immediately become immersed in the interactive game.
"After that, I remember telling our team that we simply had to have one, whatever it takes."
Administration Manager Kate Bateson adds: "Here at MHA Langholme, we understand the benefits that social interaction has on the day-to-day lives of our residents. The effect this technology has isn't like anything I have ever seen before – its ability to soothe and engage residents is enough to bring a tear to anyone's eye."
Another home to be among the first to use the tables is Claybourne in Stoke on Trent. Kerry Rafferty, Home Manager, said: "I observed the residents who were using the table to be in total wellbeing. There were residents who usually have minimal ability to engage in activities for long periods totally engrossed in the table's fun."
Lauren Till, Activity Coordinator, added: "The 'magic table' enhances the live of residents on a daily basis by enabling them to use their sensory skills to interact through touch, sound and sight. Residents are engaged for a longer period of time that helps reduce their anxiety and bring them into well-being."
Some of our other homes with the magic table include The Fairways at Chippenham, The Meadow in London, and Lower Johnshill at Auchlochan Garden Village.
MHA's Operation Manager for Dementia David Moore said: "The tables provide endless possibilities for residents, their families and staff to enjoy activities together. The technology is portable, meaning everyone within the home can enjoy it."
Click the link below to view the original case study posted by MHA.
https://omi.uk/wp-content/uploads/2023/01/Falmouth_Magic_Tables.jpg
650
1035
Soorj Gill
https://www.omi.uk/wp-content/uploads/2020/02/omi-logo-300x175-1.png
Soorj Gill
2023-01-11 14:53:48
2023-01-13 11:21:17
'Magic tables' bring joy and laughter to care homes