Following the success of the omiVista Mobii 2, with over 1000 units being delivered into the UK care sector alone, OM Interactive have announced the launch of the latest generation of their UK built mobile sensory projector, the omiVista Mobii 3.
The omiVista range of sensory projectors includes the mobile Mobii 3 and the Install ceiling mounted system both of which come in editable or non-editable versions, and are aimed at the SEN, CSEN, and Adult Care Sector, with and expanding activities suites designed specifically for each market.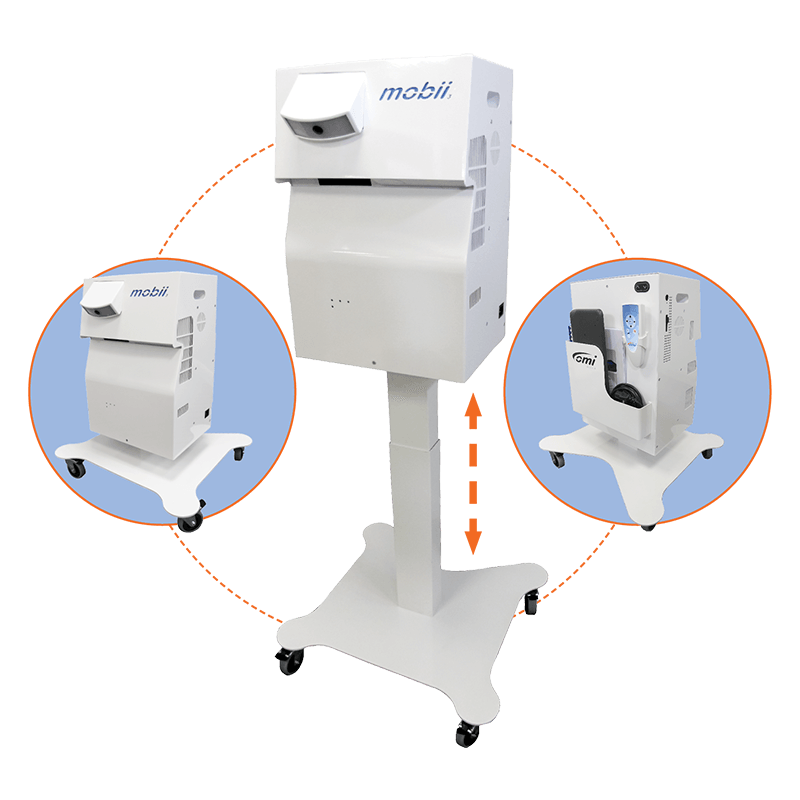 Mobii projectors are simple to use motion-activated sensory systems designed to engage and motivate people with cognitive, physical or sensory impairment, enabling care staff to lead them in a wide range of fun, creative and social activities. Mobii 3 has improved motion tracking technology  razor sharp pictures and amazing videos with incredible colours and brightness, while providing outstanding reliability and longevity.
Mobii 3 new features & improvements
A new and improved ergonomic Bluetooth remote control.
New improved movement tracking technology.
Easy access focus controls now located on top panel.
Larger back storage panel with remote control holder.
The portable Mobii 3 system projects interactive sensory images onto any horizontal surface including tables, floors or  beds. Providing adults in care at different stages of dementia or people with learning difficulties and disabilities at different levels of cognitive and physical ability with a range of sensory activities, games, and music  designed to stimulate, relax and enjoy.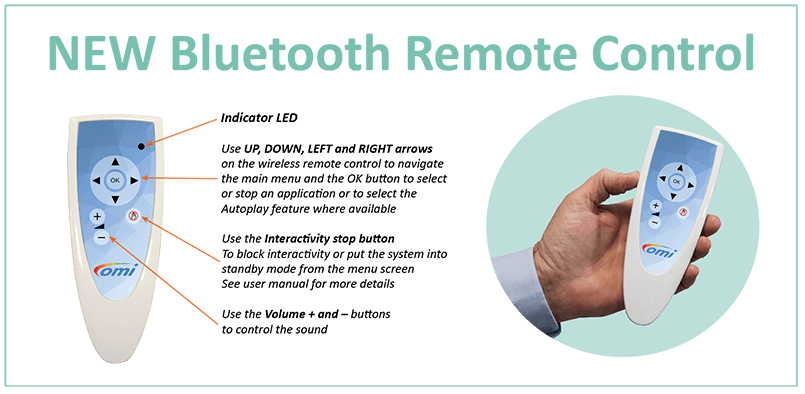 The Mobii's exceptional versatility enables use with small or large groups as well as individually which enables care staff, teachers or activities co-ordinators to facilitate interactions and engagement in lots of different care and support settings.
OM Interactive have led the way in providing inter-generational sensory projections in schools, homes, hospitals and specialist centres since 2005. With a dedicated team of engineers, designers and health-care specialists they have created a bespoke range of sensory products that provide meaningful activities for all ages and abilities to encourage movement, active participation and shared enjoyment.
In 2018 the OMI team were delighted to receive the National Dementia Care Outstanding Product Award in 'recognition of the incredible opportunities the omiVista Mobii system has brought people at all stages of dementia.
Find out more about the new omiVista Mobii 3 and how it can deliver meaningful and person centred activities for those in your care

https://omi.uk/wp-content/uploads/2021/08/evolution-of-care.png
420
550
Simon Gurney
https://www.omi.uk/wp-content/uploads/2020/02/omi-logo-300x175-1.png
Simon Gurney
2021-08-23 14:53:17
2021-09-10 13:00:21
Celebrating the launch of the omiVista Mobii 3 interactive sensory projector.